---
Friday, 08/01/03
---
Today I drove US 70 and NC 12 to Cedar Island (very pleasant), then took the ferry to Ocracoke Island.
The drive through Ocracoke was scenic, though short. Or it would have been short if I would not have tried to stop in a sandy spot next to the road to take some pictures. As soon as Bozo hit the sand, he sunk away, and trying to back up only made him dig in deeper. Fortunately, I got a pull out from some helpful people, one of whom had a strap. I first tried the strap around the steering rod, but that slipped away. Then I put it around the upper A-arm, and that worked. I was afraid it would damage the bumper, but it was all fine. I even made the ferry to Hatteras, though I was the very last one they let on the boat.
I found lodging at the Travelers Inn in Nags Head, to wit an efficiency on the third floor. More exercise! In any case, I will make my own breakfast tomorrow with tee, coffee, and bread with fresh strawberrys and sugar.
Pictures (click for larger size):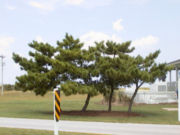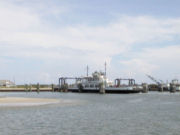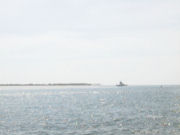 ---
Return