---
Saturday, 03/16/02
---
We met the Panhandle Miata Society at Seaside, FL. It was a very foggy day with a chance of rain predicted. But that did not stop 7 hardy Big Bend Miatas from taking off at about 9 am.
Paul and Susan, Larry, Roger and Ellen-Ann, John and Ann, Stephen, Ken and wife, and Leon drove US 20 W, US 79 S, and US 98 W to reach Inlet Beach. Larry led. The plan had been to drive 5 mph over the speed limit, but somehow Larry had understood that as 15 mph over the speed limit, and he was determined not to fail the club by a single mile. We shot past slowpokes doing a mere 80 mph. Peak speeds in excess of 100 mph were reported by members.
Arriving at Inlet Beach, we then waited for the Panhandle Miata Society, who arrived with 9 Miatas. Then on to Seaside for lunch, shopping, beach. It remained foggy, though, which was a bit dissapointing, but still a good time was had by all.
Most members returned via I-10, and with a look at the grey and dreary sky, Leon was strongly tempted to follow suit. But then, reasoning that it was a mistake to add a depressing interstate to the already depressing weather, his better self won out and he returned the coastal US 98, avoiding ALT, but taking BUS inside Panama City as is his habit. The fog actually started clearing during the drive back, making it still a very nice drive.
Pictures (click for larger size):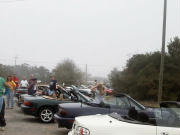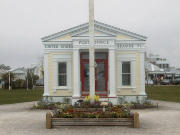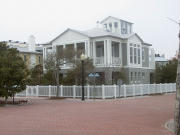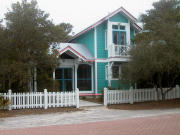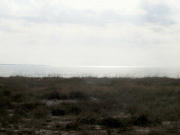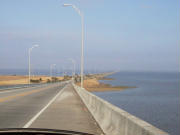 ---
Return