---
Saturday, 04/06/02
---
We taxied the Tallahassee Thunder cheerleaders, the Lightning Girls, through the Springtime Tallahassee Parade. Stephen, Jon, John, Roger and Ellen-Ann, Larry with Sharon and Kelly, Shenika, Jim Carr, Doug, and Leon showed up, as did 12 cheerleaders. Several of us, including yours truly, had two cheerleaders in our car. See my pictures below.
Picture courtesy Mrs. Carr
Stephen provided a high quality custom seat for his girls; see the design sketch. Personally, I just used a particle board plate to protect my glass window and a few pillows to provide a place for the two girls to sit. It was a glorious day. All of us were happy that no SCCA rice throwers showed up this time.
Pictures (click for larger size):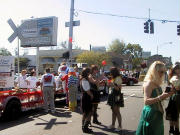 ---
Return