---
Sunday, 05/20/01
---
At 9 am, 5 Miatas, (Leon, Jerry and Judith, Paul and Susan, Brian, and Larry and Irene), headed out for a picnic at Carrabelle Beach. Top down, of course, even though it was raining all the way. No matter. As long as you can maintain some speed, say 40 mph, no rain will come in even in a Florida downpour. Just be sure to have all heater control levers full right to defog the inside of the windshield in any steaming rain. Having to keep moving means having to be able to see.
Still beautiful sights of the bay on the Panacea bridge and further down despite the rain. The closer we got to our destination, the more the weather cleared up and at the beach it was blue skies and sunny. Breezy, but very pleasant, Lots of talk about Miatas, dipping into the sea, feeding the very skillful sea gulls. Very skillful in begging, that is. But also master fliers that would pick bread crumbs thrown at them right out of the air while hovering in a stiff breeze.
At 1 pm, a second contingent of 3 Miatas left Tallahassee where it was still raining and would keep raining all day. Roger lead, followed by Jon and Cheryl. They joined us after two. A 9th miata arrived at our beach and turned out to be owned by an employee of Mazda Tallahassee. The beach parking lot was full of Tallahassee Miatas!
Thanks to Larry for excellent cooking despite the wind. Leon got rid of some of those fruit beers. Finally we left the nice weather and headed back home for the rain.

Carabelle is opposite to Dog Island.
Pictures (click for larger size):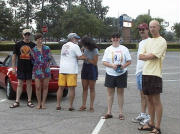 ---
Return