Panhandle Visit 7/15/00
We met the Panhandle Miata Society at lunch at Julie's Restaurant (click the pictures for a larger version):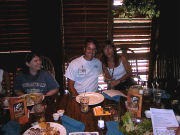 The parking lot was full of Miatas. Even a rare white one: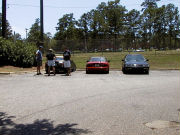 From Julie's we drove them to the Tallahassee Antique Car Museum over a scenic route:
Click the map for some pictures.
The Tallahassee Antique Car Museum was also great fun. Almost anything collectable, whether car-related or not, can be found there.
Have a look at their photo album.
---
Return