---
Poker Ralley I
---
The rally began at the Salty Dog Pub on N. Monroe St. at 12:30 p.m. Volunteers from the local MG Club assisted Rallymaster Jody Miller. It covered between 75 - 100 miles.
It took place under beautiful skies and temperatures and a good time was had by all. It covered some of the most beautiful roads north Florida and south Georgia offer. We had a nice mix of classic MG's, Triumphs, Miatas and 2 BMW motorcycles.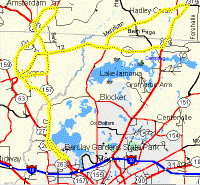 Here is the route taken by Leon. Leon could not find the very first checkpoint, trying both S.R. 12 and 12A. This took him out of the running.
Congratulations to the winners, holding a pair of Aces, Wanda and Tom Phares. They won half that pot and are now $47.50 richer.
A special THANKS goes out to Marty and Marcie Sluyter, Donn Underwood, Teresa Hamrick for manning the check points. Without the efforts of these volunteers events like this could not happen. Again THANKS!!! And thanks to all that entered. Lets do it again in the Spring.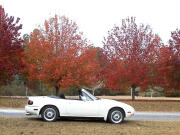 ---
Return