---
Warnings
---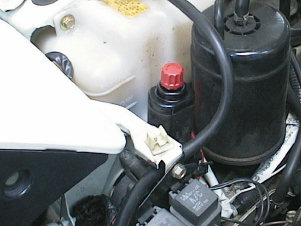 The manual actuator knob (red)


Here are some things to keep in mind while doing this:
Ensure there are no exposed wires. If you are unsure what exposed wires are, you should not be doing this. Ask a knowledgeable friend to help you. Shorts can cause serious consequences: fire, loss of control, loss of lights, ...
The headlights actuators can move the headlights rapidly! Make sure the fuses are removed as described in the instructions before working near the headlights. When connecting or disconnecting a plug, applying a voltage, etcetera with the system energized the headlights may move unexpectedly. This can cause serious injury if you have fingers or other body parts in their way.
Losing both headlights at the wrong moment can be fatal. This should not happen if the installation is performed properly. Even if it is not, it seems unlikely that you would manage to lose both headlights at once. It is your personal responsibility to check that all connections are performed correctly, that they are secure, and that there are no shorts. Be sure to test all possible light positions for proper operation.
If you disconnect the wiper motor connector to clear the fuse box cover, make sure you reconnect it before starting to drive! You do not want to discover you have no wipers while driving.
Don't test the continuity of circuits at random. By applying voltage at the wrong point, you might in principle set off an airbag, with potentially serious consequences. Airbag connectors are color coded (mine are blue) and should not be tampered with!
I make no promises as to the lifetime of the components. I have no idea of the expected lifetime of the actuator motors, and rapid cycling will undoubtedly reduce this lifetime. If you choose to perform this procedure, do so at your own risk.
---
Next
Index